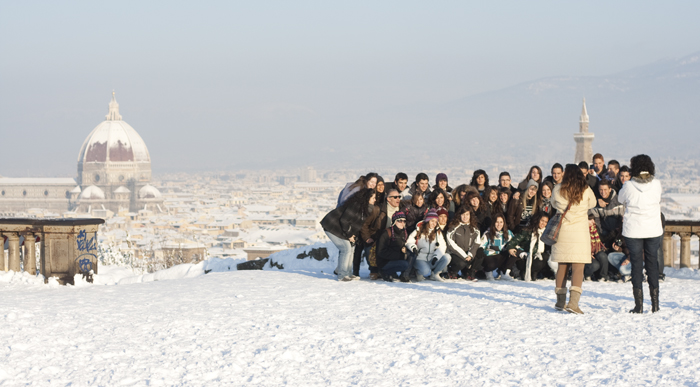 Loved our tour!
We had a fabulous time with Freya. She was amazing and we adored her. Everything was so well organized and she was able to make the tour fit the needs for myself my mother and my 12 year old daughter. She brought history alive and had a sweet demeanor. She was very responsive to "not just another museum tour". This tour was a highlight for my family. I was on a cruise and I took the transfer from the cruise to Florence. It was very easy meeting Freya. I recommend doing a tour with Freya over the typical shore excursion. Just wish I could spend more time with Freya

. I guess I will have to come back.

Visited July 2014. Caren Feldman.
more ▾
Freya was meant for Florence
Our group of 12 had the pleasure of seeing the best of Florence with Freya as our guide .




I'll be brief . Freya IS Florence . Florence pours out of every inch of Freya's soul and body. To say that she is lively, animated and passionate when the subject is Florence is an understatement. I believe that with her enthusiasm she is capable of making Florence an enjoyable experience even for the most jaded traveler . If you are planning to see Florence, Freya will amaze you.

Visited July 2014
Freya is Amazing
We are travelling with two children ages 10 and 14 and highly recommend Freya. We did two tours and I am so grateful to Freya for sharing her love and knowledge of Florence. It was our wish with this trip that our children especially our daughter renew their love for art and history. This is exactly what happened. She does not usually comment on any of our guides (we've had 5 in total this trip) but after the tour more than once she mentioned how much she liked Freya and that she would like to return to Florence and sketch. Yes! Thank you Freya you are really awesome and both children loved th
e tours as did the three adults. . We left feeling like we had a real knowledge of this beautiful city which you are so fortunate to call home.
more ▾
Freya continues to amaze
This was my wife and my second time with Freya. We cannot recommend her highly enough; she has no equal. On this trip we were accompanied by our daughter, her husband and their one year old daughter; we were introducing them to Italy. When we contacted Freya and told her about our plans, she helped arrange a terrific private guide for part of our time in Rome; then arranged for one of her drivers from Florence to pick us up at our hotel in Rome and take us for an evening at a beautiful villa outside Siena she recommended; then arranged a morning tour in Siena with a wonderful private tour guid
e; and then had her driver take us by way of Greve to our hotel in Florence. The whole family spent the next morning with her, and then the next day, my daughter and son-and-law spent half a day with her (without the baby). Everything leading up to our arrival in Florence worked like clockwork. Freya stayed in communication; her driver was a delight to spend time with, spoke good English and was a tour guide himself as we drove on some back roads through Tuscany. In Florence, Freya was just as exceptional as she had been before. She tailored the tours so my wife and I saw some things we had not seen before, but my daughter and her husband saw the essential attractions as well. Freya's deep knowledge, enthusiasm, humor, and warmth made our time with her a sheer delight. She makes Florence come alive. She is flexible and quickly gauges what interests people and adjusts accordingly. As a mother herself, she was very considerate of the baby and the logistics of a stroller -- taking the best routes, avoiding to much time in the sun, etc. It worked out perfectly. My daughter and my son-in-law came back from beaming from their half-day with her. Freya deserves the consistent rave reviews she gets on this site. She has very high standards and, judging from her driver, the extremely high qualify of the guides she arranged for us in Rome and Siena, and her attention to detail, I have no doubt that the rest of her staff is first rate. We plan to visit Florence soon again with another of our daughters and have Freya introduce her to the city, and perhaps also explore a bit beyond the city with her. William Barr. Ex Attorney General of the United States of America.
more ▾