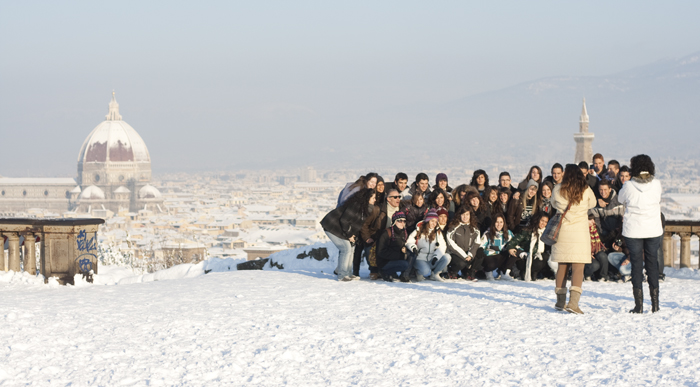 Fiabesco Firenze with Freya et.al.
Freya and her team are like the golden shaft of sunlight that settles on the Duomo during the late afternoon in Florence, i.e. brilliant and magical. Our guides, an international crew comprised of an Aussie,(Freya) a Dutchman,( Nicholas) a Brit (Joanna) and a native Italian,Sara, are all totally informed, enthusiastic, dedicated, funny, and generous with their time and their knowledge. No matter how many tours they give, their interest in the subject, and their enthusiasm never flags. This was the trip of my dreams. I was making up for lost time and wanted a total immersion in Renaissance art
and I got it. I read as much as I could and made a list and sent it to Freya asking if I could see everything on it. "Yes!" came the answer with an incredible five morning itinerary attached. Superbly organized. I read more and added "one more thing". Our tours began promptly at 8am and lasted four to four and a half hours. We often went to two or more places in one day but the tours were seamlessly orchestrated, and there was always time for a coffee. First up was Freya's non-stop fascinating overview of the Renaissance and then we lived the experience by going next door to the Medici Palazzo on cobblestone streets unaware of the history contained in them. For example, do you know where the term "breaking the bank" comes from ? what that low window is on that building( a medieval wine bar) ,why all cobblestone streets are dimpled ? One story after another … At the risk of overwhelming TA readers I'll mention two highlights : the San Marco Monastery where we saw the individual monk's cells with frescoes painted by Fra Angelico; and the moving "Ospedale deli Innocenti " or Hospital of the Innocents - the first foundling hospital in Europe. Designed by Brunelleschi it is filled with art that reflects the buildings' intent : mothers and children. How the infants who came there were cared for is another incredible story. One can spend the day here and not see or read everything. It was impressive that while there a group of schoolchildren came with their teacher to immerse themselves in this place of the "innocents". Sara, our guide for that day (which also included the Academia and the San Marco Monastery ) talked enthusiastically for over four hours and we were riveted. She knew everything about each each piece of art, who was disguised within the paintings and why and their relation to one another. She is amazing. All the guides were experts in Renaissance art and talked to us for hours about everything we saw. Nicholas took us through Boboli Gardens in the early morning light where we saw the fairy tale sculptures in the Buontalenti Grotto and then took us through the Pitti Palace. His energy and humor never abated. Nor did his knowledge about the origin of words used in painting "macchia" (stain), now incorporated into our daily "macchiato", or that this painting was painted again by another artist three rooms back, and we should compare their faces… Joanna led us through the Bargello and I will never forget the story she told about the sculpture Flying Mercury and the Breath of Zephyr. Knowing our love for Dante, she took us to the church that Dante frequented. There at Beatrice's tomb lay a red basket filled with letters to her from people all over the world. I never knew this existed. It was a treasure. We moved on to the the Museum of the Cathedral where we saw the real Baptistry doors. Joanna knew every panel, the meaning contained therein, and the relation of one to the other. There is another special connection Joanna has with Renaissance art, but I will leave that to her to tell you when you visit. Freya has assembled a truly unique group of guides who are all Renaissance art devotees.They live it and breathe it daily and their love for it and what they do, like the golden light on the halos in the church frescoes illuminated our understanding and appreciation for this amazing period in art history. We learned so much. We loved it. All I want to do is go back and do it all over again. Grazie mille to all of you. It was mondo beyondo in my language.
more ▾
Loved our tour!
We had a fabulous time with Freya. She was amazing and we adored her. Everything was so well organized and she was able to make the tour fit the needs for myself my mother and my 12 year old daughter. She brought history alive and had a sweet demeanor. She was very responsive to "not just another museum tour". This tour was a highlight for my family. I was on a cruise and I took the transfer from the cruise to Florence. It was very easy meeting Freya. I recommend doing a tour with Freya over the typical shore excursion. Just wish I could spend more time with Freya

. I guess I will have to come back.

Visited July 2014. Caren Feldman.
more ▾
Freya was meant for Florence
Our group of 12 had the pleasure of seeing the best of Florence with Freya as our guide .




I'll be brief . Freya IS Florence . Florence pours out of every inch of Freya's soul and body. To say that she is lively, animated and passionate when the subject is Florence is an understatement. I believe that with her enthusiasm she is capable of making Florence an enjoyable experience even for the most jaded traveler . If you are planning to see Florence, Freya will amaze you.

Visited July 2014
Freya is Amazing
We are travelling with two children ages 10 and 14 and highly recommend Freya. We did two tours and I am so grateful to Freya for sharing her love and knowledge of Florence. It was our wish with this trip that our children especially our daughter renew their love for art and history. This is exactly what happened. She does not usually comment on any of our guides (we've had 5 in total this trip) but after the tour more than once she mentioned how much she liked Freya and that she would like to return to Florence and sketch. Yes! Thank you Freya you are really awesome and both children loved th
e tours as did the three adults. . We left feeling like we had a real knowledge of this beautiful city which you are so fortunate to call home.
more ▾
Freya continues to amaze
This was my wife and my second time with Freya. We cannot recommend her highly enough; she has no equal. On this trip we were accompanied by our daughter, her husband and their one year old daughter; we were introducing them to Italy. When we contacted Freya and told her about our plans, she helped arrange a terrific private guide for part of our time in Rome; then arranged for one of her drivers from Florence to pick us up at our hotel in Rome and take us for an evening at a beautiful villa outside Siena she recommended; then arranged a morning tour in Siena with a wonderful private tour guid
e; and then had her driver take us by way of Greve to our hotel in Florence. The whole family spent the next morning with her, and then the next day, my daughter and son-and-law spent half a day with her (without the baby). Everything leading up to our arrival in Florence worked like clockwork. Freya stayed in communication; her driver was a delight to spend time with, spoke good English and was a tour guide himself as we drove on some back roads through Tuscany. In Florence, Freya was just as exceptional as she had been before. She tailored the tours so my wife and I saw some things we had not seen before, but my daughter and her husband saw the essential attractions as well. Freya's deep knowledge, enthusiasm, humor, and warmth made our time with her a sheer delight. She makes Florence come alive. She is flexible and quickly gauges what interests people and adjusts accordingly. As a mother herself, she was very considerate of the baby and the logistics of a stroller -- taking the best routes, avoiding to much time in the sun, etc. It worked out perfectly. My daughter and my son-in-law came back from beaming from their half-day with her. Freya deserves the consistent rave reviews she gets on this site. She has very high standards and, judging from her driver, the extremely high qualify of the guides she arranged for us in Rome and Siena, and her attention to detail, I have no doubt that the rest of her staff is first rate. We plan to visit Florence soon again with another of our daughters and have Freya introduce her to the city, and perhaps also explore a bit beyond the city with her. William Barr. Ex Attorney General of the United States of America.
more ▾